THE UK'S BEST E CIGARETTE
STARTER KIT DEALS
ALL STARTER KITS INCLUDE FREE UK OR EU DELIVERY
THE SMOKO E-CIGARETTE - OUR MOST POPULAR STYLE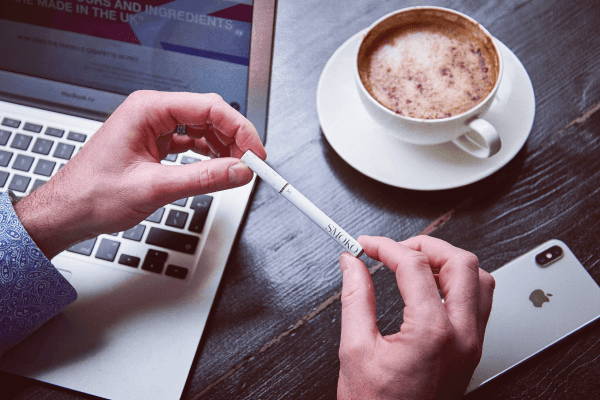 THE SMOKO E-CIGARETTE STARTER KIT
Realistic Smoking Sensation
Easy To Use E-Cig, Easy To Change Refills
Stylish Design
Small and Discreet
Charged And Ready To Go
Uses SMOKO Pre-Filled E-Cigarette Refills
Ideal for smokers looking to quit
£24.99 REGULAR PRICE
£9.99
---
MORE E-CIG STARTER KIT BUNDLES
E Cigarette Starter Kit
+ 1 Pack of Refills
+ Extra Battery
E Cigarette Starter Kit
+ 1 Pack of Refills + Extra Battery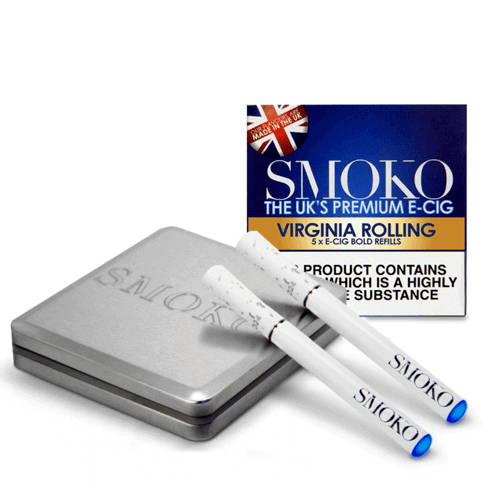 £44.97 REGULAR PRICE
£19.99
---
E Cigarette Starter Kit
+ 4 Packs of Refills
+ Extra Battery
E Cigarette Starter Kit
+ 4 Packs of Refills + Extra Battery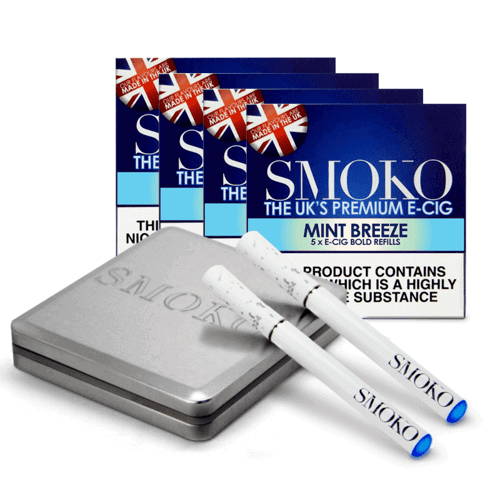 £80.95 REGULAR PRICE
£44.99
---
E Cig Starter Kit + 10 Packs of Refills
+ Extra Battery + Mains Adaptor
E Cig Starter Kit + 10 Packs of Refills + Extra Battery
+ Mains Adaptor
£160.87 REGULAR PRICE
£100.00
---
THE SMOKO VAPE
OUR NEWEST ELECTRONIC CIGARETTE STARTER KIT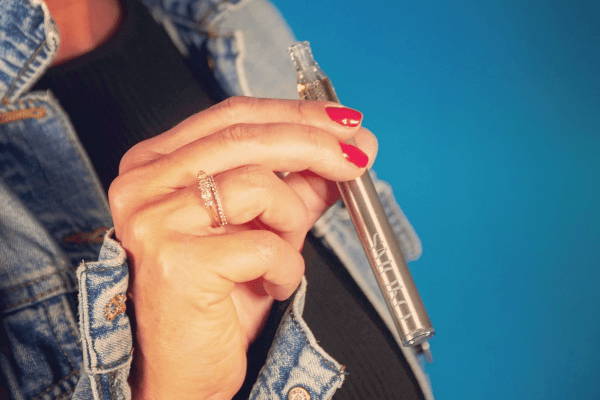 THE SMOKO VAPE STARTER KIT
More Power and More Vapour
Easy To Use, Easy To Change Refill Pods
Designed for the more experienced vaper
Longer Life Battery
Charged And Ready To Go
Uses SMOKO Pre-Filled VAPE Refills
£24.99 REGULAR PRICE
£14.99
---
MORE VAPE STARTER KIT BUNDLES
VAPE Starter Kit
+ 1 Pack of VAPE Refills
VAPE Starter Kit
+ 1 Pack of VAPE Refills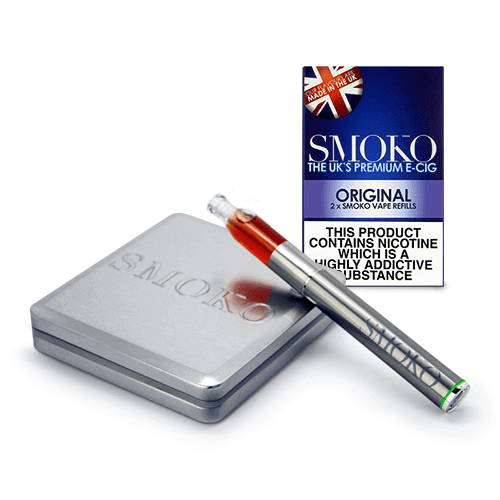 £32.98 REGULAR PRICE
£19.99
---
VAPE Starter Kit
+ 3 Packs of Refills + Extra Battery
VAPE Starter Kit
+ 3 Packs of Refills + Extra Battery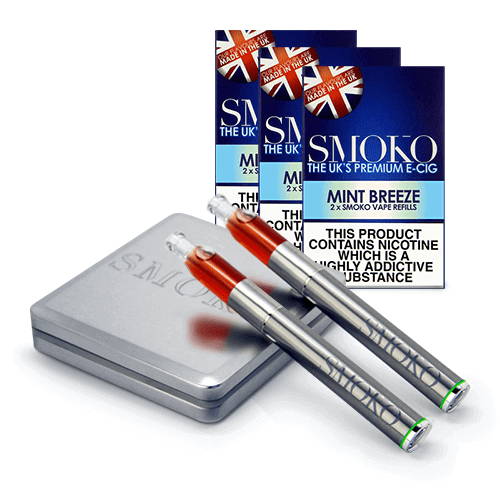 £63.95 REGULAR PRICE
£44.99
---
VAPE Starter Kit
+ 11 Packs of Refills + Extra Battery
VAPE Starter Kit
+ 11 Packs of Refills + Extra Battery
£160.87 REGULAR PRICE
£100.00
---
THE SMOKO V-STYLE
OUR REFILLABLE E-CIGARETTE STARTER KIT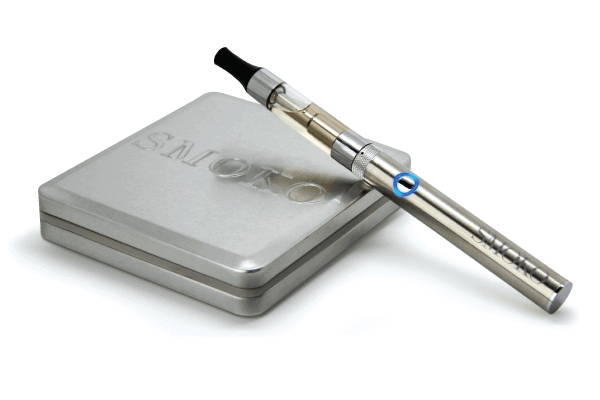 THE SMOKO V-STYLE E-CIGARETTE STARTER KIT
Great Vapour Production
Refillable Vaping Starter Kit
Designed For The More Experienced Vaper
Longer Life Battery
Charged And Ready To Go
Uses SMOKO's Premium E-Liquids
---
MORE V-STYLE STARTER KIT BUNDLES
VAPE Starter Kit
+ 1 Pack of VAPE Refills
V-Style E-Cigarette
Starter Kit + 1 E-Liquid
+ Extra Coil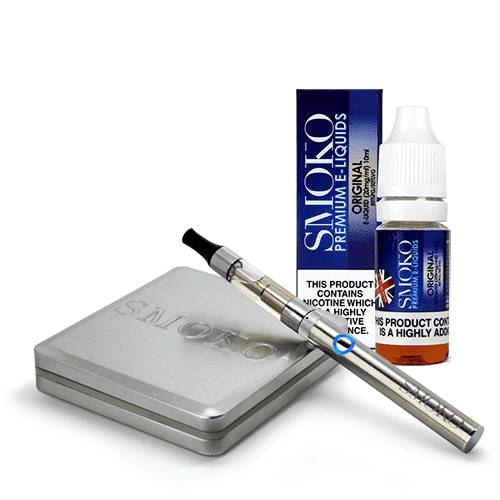 £33.48 REGULAR PRICE
£29.99
---
VAPE Starter Kit
+ 3 Packs of Refills + Extra Battery
V-Style Vapourizer E-Cigarette
Starter Kit + 4 Virginia Rolling E-Liquids
+ Extra Coil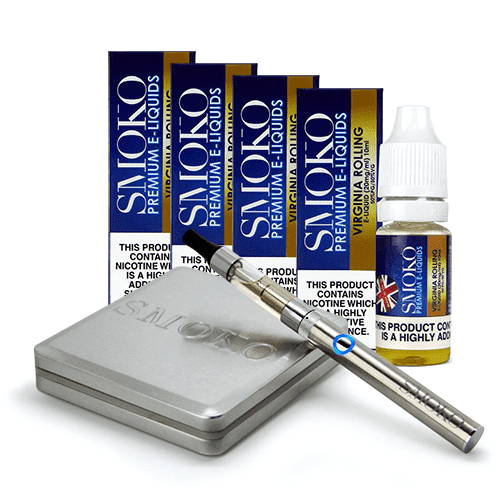 £51.45 REGULAR PRICE
£44.99
---
V-Style Vapourizer E-Cigarette
Starter Kit + 4 Mint Breeze E-Liquids
+ Extra Coil
VAPE Starter Kit
+ 11 Packs of Refills + Extra Battery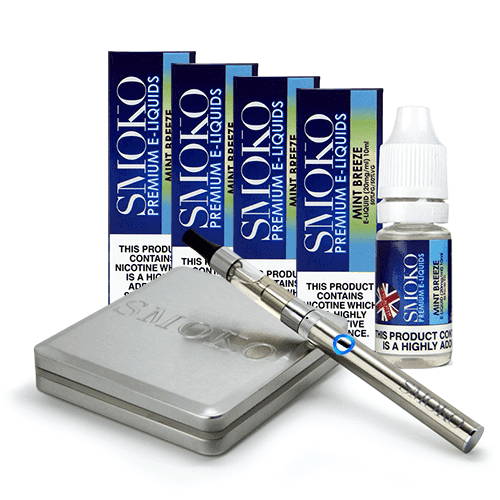 £51.45 REGULAR PRICE
£44.99
---
IT'S TIME TO SWITCH TO SMOKO E-CIGARETTES
The SMOKO Premium E-Cigarette is an amazing product that...
 
- delivers a realistic smoking sensation, so you get the full satisfaction of a cigarette!
- uses only the highest quality, UK-Made ingredients (many e-cigarettes use Chinese-made ingredients), so you are getting the best quality product you can trust!
- is virtually odourless, so your breath and your clothes won't smell like an ashtray anymore!
- if you smoke a pack a day, using SMOKO will work out to £1.50 to £2.00 a day!
- According to Public Health England "e-cigarettes are at least 95% less harmful than cigarettes"
If you are looking to make a healthier change than SMOKO is definitely for you!
SMOKO HAS STOPPED OVER
150,000,000 CIGARETTES BEING USED
AND SAVED OUR CUSTOMERS OVER £60M
SMOKO HAS PREVENTED
OVER 150,000,000 CIGARETTES BEING SMOKED AND OUR CUSTOMERS HAVE SAVED OVER £60M
SMOKO HAS STOPPED OVER
150,000,000 CIGARETTES BEING SMOKED
AND SAVED OUR CUSTOMERS OVER £60M
SMOKO HAS STOPPED OVER
150,000,000 CIGARETTES BEING USED
AND SAVED OUR CUSTOMERS OVER £60M
SMOKO HAS PREVENTED OVER 150,000,000 CIGARETTES BEING SMOKED AND OUR CUSTOMERS HAVE SAVED OVER £60M
SMOKO HAS STOPPED OVER
150,000,000 CIGARETTES BEING SMOKED
AND SAVED OUR CUSTOMERS OVER £60M
---
HOW THE SMOKO ELECTRONIC CIGARETTE WORKS

SMOKO has been designed with the leading e-cigarette technologies to deliver a realistic smoking sensation, consistent vapour and an amazing taste with every puff!  
Powered by a rechargeable lithium-ion battery, the pre-filled Flavour Refills have a built-in Atomizer and are filled with SMOKO's e-liquids that are all Made in the UK! Together they are vapourized efficiently to deliver a consistent and satisfying smoke-like vapour!  
Small, stylish and with a realistic smoking sensation - what more could you ask for?
---
SATISFIED CUSTOMERS AND 5 STAR GOOGLE REVIEWS ABOUT SMOKO

"Mint Breeze flavour is just awesome. Been using SMOKO for a month now and haven't even wanted a proper cigarette - without doubt the only way I have managed to stop smoking!"
- Claire, Weymouth, UK
"Great vapes, a ton of different flavours and incredibly helpful staff. Haven't had a cigarette in 3 months
and I was smoking every day. Highly recommended!"
- James, Lamberhust, UK
"I have been with SMOKO for 5 years their service is fantastic, their prices are great and I have never had any problems. They have looked after me and I would highly recommend! Just give them a call"
- John, Guildford, UK
"Excellent e cigarette supplier. I have been using SMOKO for several years now and have always found them to be courteous, reliable and competitively priced. Most importantly they supply good quality products. I would not hesitate to recommend them."
- Shirley, Maidstone, UK
"I smoked for 15 years and this by far is the best product to give up.
I'm now 4 years smoke Free! Highly recommended!!"
- Tommy, Bishop's Stortford, UK
"Great service, wonderful staff. I smoked for over 40 years and thought I would never be able to give up.
Until I discovered SMOKO. I recommend SMOKO to anyone who wants to stop smoking.
Reasonable prices and great service"
- Tracey, Chesham, UK
"SMOKO is great! I had my last cigarette just under 3 years ago! Living in Tunbridge Wells it was easy to buy my SMOKO products, but now we've move abroad and my orders are delivered free! Thanks!"
- Jacqueline, Rojales, SPAIN
"Have been using these for a year now, and they are brilliant. Gives you the perfect hit that makes
it feel like a real cigarette. Original flavour my favourite, but also like Energy!"
- Josh, London, UK
"Really rate these products. There is nothing on the market quite as good as SMOKO and I've tried a lot but still SMOKO stands out as the best to me. Staff and service great. Would definitely recommend."
- Gemma, Kent, UK
"I honestly wouldn't have been able to kick my heavy smoking habit without SMOKO's help and guidance. Tested and trusted products and great deals on kits. Freedom from cigarettes is a wonderful feeling! Thank you SMOKO!"
- Amelie, Tunbridge Wells, UK
---
"E-CIGARETTES ARE AT LEAST 95%
LESS HARMFUL THAN CIGARETTES"
- PUBLIC HEALTH ENGLAND
"E-CIGARETTES ARE
AT LEAST 95%
LESS HARMFUL THAN CIGARETTES"
- PUBLIC HEALTH ENGLAND
"E-CIGARETTES ARE AT LEAST 95%
LESS HARMFUL THAN CIGARETTES"
- PUBLIC HEALTH ENGLAND
---
SMOKO's customers around the world are using our products to live smoke-free every day and you could too!
Making the switch from cigarette to vaping should be an incredibly simple process. But with so many new technologies and new products on the market, it could feel really complicated. But finding your first e-cigarette kit to help you go smoke-free can be easy with SMOKO.
Unlike many websites who offer hundreds of different models on brands, choosing one of our 3 main e-cigarette starter kit styles will make it an easy choice. All our vape kits have been designed to be easy to use, uncomplicated and discreet, while still delivering a truly satisfying and realistic smoking sensation.
When you are just starting out with vaping, there are a lot questions you might have. The following information should help to answer your questions and to find the right e-cigarette starter kit to help you on your quest to kick the habit!
---
WHAT IS A VAPE STARTER KIT?
When switching from cigarette to vaping for the first time, finding an easy to use vape starter kit is the first step.
Most starter kits are designed to mimic the smoking sensation you are used to while still satisfying your cravings. All 3 of our designs come with everything you need to vape for the first time and are ready to use as soon as they arrive. Unlike many of the larger vapes out there, you will not need an engineering degree to figure out how to use them!
Many smokers are looking for a device that looks, feels and performs as closely to their cigarettes they have become accustomed to over the years. That is why closed e-cigarette systems – those which look most like a cigarette and are the easiest to use – are the most popular way for first time vapers.
SMOKO's e-cigarette starter kits are designed by ex-smokers and all come with our incredible UK-Made E-Liquids ensuring they are authentic in flavour, satisfying in their everyday use and ultimately a hassle-free alternative to traditional cigarettes. As you would have guessed by looking at our products, not all e-cigarettes are created the same. Many brands rely on Chinese-made flavours and ingredients, which can make many people apprehensive. That is why we only use the highest quality flavours and ingredients that are all Made in the UK.
Using an e-cigarette should be an easy swap within your normal routine, deliver that same satisfaction and help your conquer those cravings when you are trying to quit.
---
WHAT'S INCLUDED IN A SMOKO E-CIG STARTER KIT?
All of our Vape starter kits come with everything you need to start vaping as soon as it arrives.
Our E-Cig and VAPE Starter Kits come with a rechargeable battery, a pre-filled refill that is ready to use and a USB charging device or cable. You will also receive an instruction manual that walks you through how to use your e-cigarette and how to recharge you vape battery. We also have some helpful videos and guides if you want to see how to use your vape for the first time.
All of our vape kits come with a choice of our most popular flavours which you can choose – Original tobacco is right if you smoke a tailor-made cigarette, Virginia Rolling if you roll your own or Mint Breeze if you use a menthol cigarette.
Our batteries are partially charged and the vape refills are ready to use. So once your vape starter kit arrives, have a quick read of the instruction manual or watch one of our videos and then you can start vaping your way to a smoke-free life.
---
HOW MUCH DOES VAPING COST?
Each of our 3 e-cigarette starter kits from SMOKO come with everything you need to begin your smoke-free journey. Depending on the style you choose, you will spend between £9.99 for our SMOKO E-Cigarette, £14.99 for our SMOKO VAPE Starter Kit or £24.99 for our refillable V-Style e-cigarette.
Understanding how much an e-cigarette will cost you long term is an important part of your decision to switch from smoking cigarettes to vaping.
Our SMOKO E-Cigarette works with the SMOKO E-Cigarette Refills. These come in a pack of 5 Refills with each refill containing approximately 30 cigarettes worth of nicotine. So if you smoke a pack a day and a pack of SMOKO E-Cigarette Refills are at most £9.99, you could expect to pay £1.50 to £2.00 a day vs. up to £10 for a pack of tailor-made cigarettes.
Our SMOKO VAPE uses the SMOKO VAPE Refills. These are larger in size and contain approximately 70 cigarettes worth of nicotine and come in a pack of 2 Refills. So if you smoke a pack a day and a pack of SMOKO VAPE Refills are at most £7.99, you could expect to pay £1.50 to £1.85 a day vs. up to £10 for a pack of cigarettes from the grocery store.
Our V-Style is slightly different as it uses our premium e-liquids. Each bottle of our UK-made E-liquids contains up to 150 cigarettes worth of nicotine and at most costs £4.99. So if you smoke a pack a day, you could expect to pay between £1.20 to £1.45 a day vs. up to £10 for a pack of traditional cigarettes. However, with the V-Style, there is a bit more work involved as you need to refill the e-liquid yourself and replace the atomizer (heating element) on a regular basis.
---
HOW DO I CHOOSE THE RIGHT STARTER VAPE KIT?
To choose the right starter vape kit for you should reflect on how much you effort you want to put into the maintenance of your e-cigarette. All our e-cigarette kits deliver the nicotine you crave, provide a realistic throat hit, authentic flavours, mimic the hand to mouth action you are used to all while delivering one of the most satisfying smoking sensation that all of our customers prefer compared to actual cigarettes. That's what keeps them smoke-free!
Many smokers are put-off by the large cloud that wafts out of cars they see on the motorway or when they are walking behind someone vaping on the street. These larger devices are not what we do at SMOKO as we don't believe they are as effective as our stylish yet effective vape starter kits.
If you want the smallest and most discreet vape – have a look at our most popular design – The SMOKO E-Cigarette. It looks like a cigarette, weighs the same as a lighter, is the easiest e-cigarette to use and still delivers a rich and satisfying smoking experience.
Perhaps you want something with a bit more power and higher performance – than the SMOKO VAPE Starter kit will be a great option. With a quick-charging battery that last all day, easy to use and incredibly satisfying, the VAPE has been popular for the more experienced vaper who used to use a larger device but know wants something with similar performance but with less weight and more discreet.
And finally, if you don't mind a bit more effort, the SMOKO V-Style is a small yet effective refillable devise that provides a great smoking experience but without the excess vapour clouds you get from the big mods.
Whichever vape starter kit you choose, all our e-cigarettes deliver a great tasting alternative to cigarettes, with the highest quality e-liquids and authentic flavours all at a fraction of the cost of your current habit. With SMOKO's e-cigarette starter kits, you will be able to start vaping straight away without an awkward transition towards living smoke-free.
---
USING AN E-CIGARETTE CAN BE SO SIMPLE
Using an e-cigarette for the first time is a slight change to your current habit, but once you learn how to vape, you will never want to look back.
One thing that people sometimes forget, is that you have to learn how to vape.
When you smoke, if you want a bigger hit, you generally need to draw harder to get a bigger throat hit. When using an e-cigarette, the vape tends to do all the heaving lifting for you. So instead of drawer harder, with a vape, a slower and slightly longer draw will mimic the same hit you would get with a normal cigarette. So the best way to vape is with a slow, steady and slightly longer draw. And if you want an even bigger hit, draw for a bit longer still.
Unlike with smoking where you would exhale almost immediately, if you hold the vapour from you e-cigarette in your lungs for a few extra seconds, your body will have more time to absorb the nicotine. We suggest you vape like you are enjoying a fine wine – you want to savour the vapour and enjoy it.
Once you receive you vape starter kit, read through the instructions, watch some of our instructional videos or ask one of our helpful staff to learn how to vape correctly. Like learning to ride a bike, once you get the routine, it becomes second nature.
---
WHY WOULD YOU START TO VAPE?
Most of the leading medical professionals and health bodies all agree that vaping and e-cigarettes are one of the most effective ways to quit smoking. As we have mentioned previously, Public Health England proclaim that e-cigarettes are at least 95% less harmful than traditional cigarettes. From the World Health Organization to Cancer Research UK to The Royal College of Physicians, all the experts agree that e-cigarettes are a healthier option.
Some of the other reasons why you should quit smoking and switch to vaping are:
 
- E-Cigarettes are virtually odourless – we know that cigarette leave an unpleasant smell on your cloths and breath, but e-cigarettes and the vapour they produce have almost no smell.
 
- Vaping is Less harmful – most tobacco products contain over 4,000 chemicals and 50 known carcinogens and all of the research over the last 40 years confirm that smoking cigarettes is the leading cause of preventable death. When you use a vape starter kit, you are eliminating over 99% of these harmful chemicals and despite some of the negative headlines, e-cigarettes like SMOKO are dramatically better for your long term health compared to consuming tobacco
 
- E-cigarettes are safer for those around you - Unlike cigarettes which produce toxic second-hand smoke which can be deadly to those around us, vaping does not produce any second-hand smoke. All the research into the safety of e-cigarettes have found that there is virtually zero harmful chemicals or emissions in the vapour we exhale while vaping. To the point where the Royal College of Midwives and the Royal College of Obstetricians recommend that pregnant women who smoke should either quit completely or use an electronic cigarette instead of continue to use tobacco.
 
Beyond the health benefits of vaping, one of the biggest advantages of using a vape starter kit is the cost savings. For a pack a day smoker spending in excess of £10 every day to be able to switch to a healthier alternative and pay up to 75% less can have a massive impact on your personal and family's finances. Imagine how much easier your family's life would be if you had an extra £2,900 a year to spend on anything other than cigarettes!
---
WHY SHOULD YOU CHOOSE A VAPE STARTER KIT FROM SMOKO?
There are so many reasons why ex-smokers in over 25 countries around the world use SMOKO everyday to be free from cigarettes. Over the last 8 years, SMOKO's e-cigarette starter kits have helped prevent over 150,000,000 cigarettes from being smoked. They work. They are easy to use. Our flavours are truly authentic and the sensation is so realistic.
By offering 3 different vape starter kit options to choose from, a wide range of flavours and nicotine strengths, flexible delivery options and great customer service, SMOKO can help anyone who is looking to switch from cigarettes for the first time.
We are a member of the Independent British Vape Trade Association (IBVTA), all of our products are 100% compliant with the UK and European Tobacco Products Directives (or TPD laws regulating the e-cigarette industry), and our entire range of vape starter kits, e-cigarette refills and e-liquids are all registered with the MHRA (the UK's Medicines and Healthcare Products Regulatory Agency that oversees and regulates all medicines).
But beyond all of this, SMOKO E-Cigarettes is not owed, controlled or influenced in any way by a tobacco conglomerate. We want to be part of the solution, not part of the problem.
If you are still trying to decide which vaping starter kit would work for you, feel free to call one of our customer service team – we have been helping people quit for over 8 years!
Or maybe you want to read what some of our customers have to say – you can read our 5 star reviews on Google or check out our Customer Reviews.
Every step you take to quit smoking is a step to leading a healthier and more fulfilling life and we hope that SMOKO will be a big part of that.
---
"OUR E-LIQUIDS, FLAVOURS
AND INGREDIENTS
ARE MADE IN THE UK"
"OUR E-LIQUIDS, FLAVOURS
AND INGREDIENTS
ARE MADE IN THE UK"
"OUR E-LIQUIDS, FLAVOURS
AND INGREDIENTS
ARE MADE IN THE UK"