SMOKO E-CIGARETTE ACCESSORIES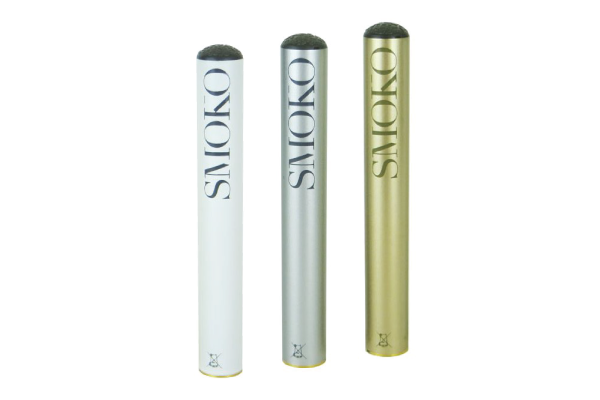 We stock a wide range of e-cigarette accessories to keep you enjoying your SMOKO when you are on the go! Get extra rechargeable batteries, USB Chargers and UK and EU Mains adaptors. And more exciting accessories are on the way!
We always recommend using SMOKO E-Cigarette accessories in conjunction with all of our SMOKO E-Cigarettes, Vapourizers and E-Liquids.
All of the ingredients and flavours we use in our E-Liquids and products are all Made in the UK!
If you smoke 20 cigarettes a day, switching to SMOKO E-Cigarettes would work out to be roughly £1.50 to £2.00 a day depending on how much you use it! Imagine how much money you can save!
---
SMOKO E-CIGARETTE ACCESSORIES
SMOKO E-CIGARETTE
ACCESSORIES
---
THE SMOKO E-CIGARETTE REFILL IS AN AMAZING LITTLE DEVICE THAT IS...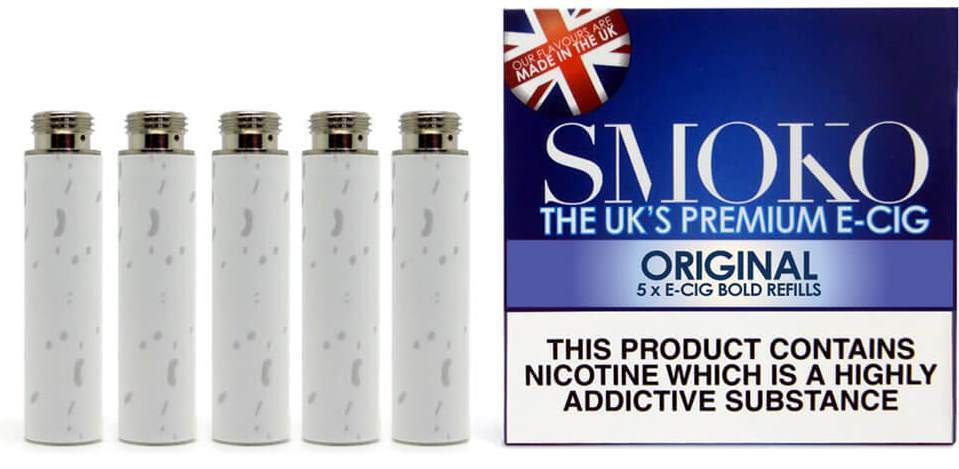 EVEN BETTER THAN THE REAL THING - delivers a realistic smoking sensation, so you get the full satisfaction of a cigarette!
MADE IN THE UK - we use the highest quality, UK-Made ingredients (many e-cigarettes use Chinese-made ingredients),
VIRTUALLY ODOURLESS - our e-cigarette produces almost no smell, so your breath and your clothes won't smell like an ashtray anymore!
DRAMATICALLY MORE AFFORDABLE - if you smoke a pack a day, using SMOKO will work out to £1.50 to £2.00 a day!
PRE-FILLED AND READY TO USE - Unlike other larger e-cigarettes that are prone to leaking and are messy to re-fill, the SMOKO E-Cigarette Refill is ready to use. Super convenient and easy to use.
If you are looking to make a major lifestyle change then SMOKO is definitely for you!
---
HOW THE SMOKO ELECTRONIC CIGARETTE WORKS

SMOKO has been designed with the leading e-cigarette technologies to deliver a realistic smoking sensation, consistent vapour and amazing taste with every puff!  
Powered by a rechargeable lithium-ion battery, the pre-filled Flavour Refills have a built-in Atomizer and are filled with SMOKO's e-liquids that are all Made in the UK! Together they are vapourized efficiently to deliver a consistent and satisfying smoke-like vapour!  
Small, stylish and with a realistic smoking sensation - what more could you ask for?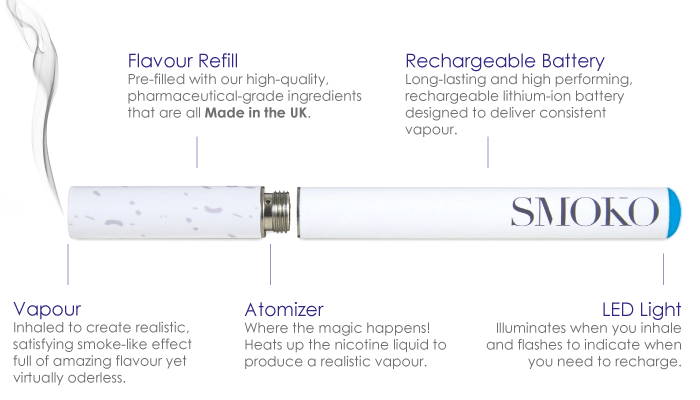 ---
FREQUENTLY ASKED QUESTIONS
Your SMOKO E-Cigarette Battery comes fully charged and ready to go.  
You will know when your SMOKO Battery needs to be recharged when the BLUE light flashes on the end of the battery when you are using it.
Unscrew the Refill and set it aside for future use.

Screw your SMOKO Battery into the SMOKO USB Charger (the small black device).

Plug the USB into a USB port. We recommend using a SMOKO Mains Adaptor but you can also plug the USB into a laptop, computer or a phone charger.

A RED light on the USB Charger will turn on and the end of your Battery will go BLUE - this means the Battery is charging.

When fully charged, the BLUE light on the Battery will flash BLUE 3 times and then turn off. This means your Battery is fully recharged and ready to use.

Reattach your Refill to the battery and you are ready to go.
It will take approximately 2 hours to fully charge your SMOKO Battery. Do not leave your SMOKO Battery on charge beyond the recommended 2 hour period and we also suggest you never leave a charging battery unattended.
For the best results, we recommend using a new Refill on your fully charged SMOKO E-Cigarette Battery.
Many electronic cigarettes brands that are sold in grocery and petrol stations use Chinese-made e-liquids. SMOKO does things very differently! All of the nicotine, ingredients and flavours we use in our e-liquids are made with the highest-quality, pharmaceutical-grade ingredients and are all MADE IN THE UK, so you know you are getting the best product on the market.
 
A recent study by the Harvard School of Public Health claims that 75% of flavoured e-cigarettes contain diacetyl, a flavouring chemical linked to cases of severe respiratory disease including "pop-corn lung".
SMOKO's e-liquids are all free of Diacetyl, Acetoin and Pentanedione! Quality you can trust!
---