SMOKO V-STYLE E-CIGARETTE STARTER KIT DEAL
V-Style Vapourizer E-Cigarette Starter Kit + 4 E-Liquids + Extra Coil
Stylish Design
Refillable E-Cigarette
Realistic smoking sensation
Great Vapour Production
Ideal for the experienced E-Cigarette user
The SMOKO V-Style Vapourizer E-Cigarette is designed to deliver a realistc and satisfying smoke-like sensation. Designed to be refilled with our amazing E-Liquids that are all Made In The UK.  
You can choose from the following 3 flavours for your VAPE E-Cigarette Starter Kit:
ORIGINAL - if you smoke tailor-made cigarettes, this is the flavour for you! Our most popular flavour.
VIRGINIA ROLLING - if you roll your own cigarettes and prefer a more authentic tobacco flavour - this is one for you.
MINT BREEZE - if you prefer a menthol or minty cigarette then this is the flavour we would recommend.
This Deal includes FREE UK Shipping

FREE UK SHIPPING
Order before 3pm Monday to Friday for same day dispatch!

EARN SMOKO POINTS ON THIS PRODUCT
You will earn SMOKO Points when you buy this product. Use your SMOKO Points to unlock extra rewards!
---
Your SMOKO Electronic Cigarette Starter Kit includes:
SMOKO V-Style Rechargeable Battery

1 SMOKO V-Style Refillable Tank

4 E-Liquids
(Chose from Original, Virginia Rolling or Mint Breeze Flavours)


1 SMOKO V-Style Replacement Coil
---
The SMOKO V-Style Electronic Cigarette has been designed to deliver a realistic smoking sensation, consistent vapour and amazing taste with every puff!  
The SMOKO V-Style is powered by a rechargeable lithium-ion battery and uses the re-fillable Tanks to be used with SMOKO's famous E-Liquids (Made in the UK).  When you fill up the Tank and press the button, this vapourizes the E-Liquids to deliver a consistent and satisfying smoke-like vapour! Compact, relatively easy to use and provides a realistic smoking sensation - what more could you ask for?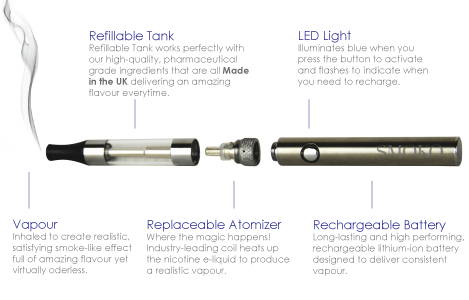 ---
YOU MIGHT BE INTERESTED IN...
---