ELECTRONIC CIGARETTES AND VAPING
FREQUENTLY ASKED QUESTIONS

We wanted to answer all your questions that you may have about how e-cigarettes work, how to use them, why you should be using them instead of smoking and a bit more background on SMOKO - the UK's Best Electronic Cigarette. If there is something that you cannot find here, feel free to call us on 0800 772 0234 or send us an email at hq@smoko.com
---
The story of SMOKO is steeped with history and dates back over a century. It is an Aussie term meaning "to take a quick break or to take a cigarette break". SMOKO became synonymous with taking a break from work, enjoying the company of friends, or just having a laugh and reflecting on life. Taking a SMOKO was at one stage in our history a cherished moment - business deals were done, relationships started, friendships formed, connections made, jokes passed on - all over a cigarette break.
SMOKO is The Premium Electronic Cigarette brand based in the UK that is helping smokers around the world regain their freedom, live healthier lives and dramatically increase their standard of living! Since we started over 8 years ago, we have helped prevent over 200,000,000 cigarettes being consumed and have saved our customers over £75,000,000 of their hard-earned money going up in smoke!
Who should use SMOKO E-Cigarettes?
Anyone who smokes traditional cigarettes and is looking to make a dramatic change in their lifestyle – More Freedom! Better Health! More Money! As well, anyone using another e-cigarette brand and not 100% happy should try SMOKO as our flavours are incredible and all of our e-liquids are Made in the UK!
Will using SMOKO increase my sex appeal?
We are not miracle workers HOWEVER by switching to SMOKO E-Cigarettes, your breath will smell better, your hair and clothes won't have the lingering smell of ciggies, you will have more money for the latest clothes and to buy that special someone at the other side of the bar a drink. As well, you will spend less time outside the club in the rain and more time on the dance floor shaking your stuff! And everyone will want to know where you got your SMOKO from!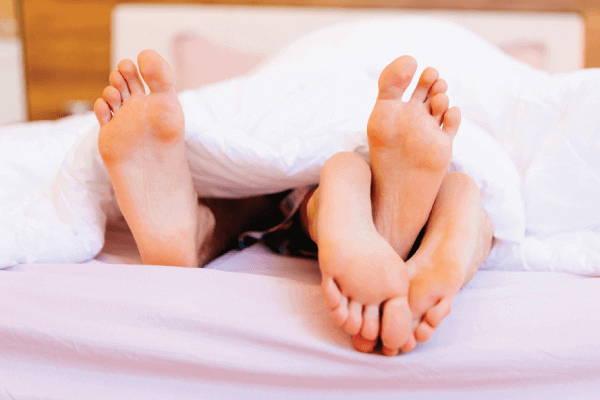 How do SMOKO E Cigarettes work?
SMOKO works with a small rechargeable battery and a unique, replaceable cartridge containing the flavour and nicotine. When you inhale (drag on your E Cigarette), it activates the cartridge, which vaporizes the solution and allows you to enjoy the fantastic taste and realistic sensation. SMOKO E-Cigarettes are designed to give you the most realistic smoking sensation, coupled with our amazing flavours without all of the chemicals and carcinogens found in normal cigarettes!
Who should not use SMOKO E-Cigarettes?
E-cigarettes should not be used by anyone who is not 18 years old, children, pregnant or breast feeding women, people with any existing medical condition, heart disease, high blood pressure, diabetes or people taking medicines for asthma or depression. Consult your physician before using any electronic cigarette product. SMOKO can be purchased and used by anyone aged 18 and over and should really only be used by people who are currently smoking tobacco products.
Can I really SMOKO Electronic Cigarettes anywhere?
Unlike traditional cigarettes that fall under Anti-Smoking Laws, SMOKO E Cigarettes do not contain or burn any tobacco so would not be considered illegal in any public place. And this is where we regain our freedom - all of those places where we used to enjoy a cigarette - the pub, in the bar, at your favourite restaurant after a great meal, at the office, down at the social club, in a taxi, on the train. You name it - your freedom is limitless!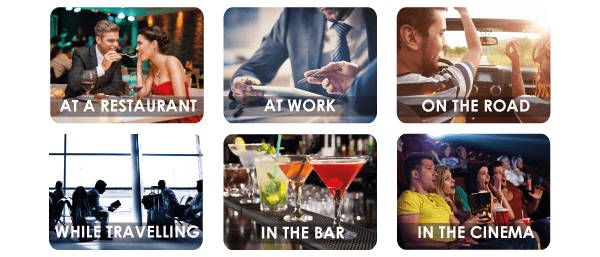 Does SMOKO produce secondhand smoke?
No! SMOKO E Cigarettes do not contain or burn any tobacco. It produces a water vapour that looks and feels like smoke, is filled with amazing flavours and nicotine to feed your craving. There has been countless research done recently that proves there is little to no risk of secondhand smoke from e-cigarettes.
Can SMOKO be used as a quit smoking device?
The only thing that can make anyone quit smoking is their willpower. Any product that claims to make you quit smoking in our view is very misleading. We don't claim that SMOKO is a "quit smoking" device or cessation method. However, we have created a range of varying nicotine strengths - BOLD 2.0%, REGULAR 1.8%, MEDIUM 1.5% and LIGHT 1.1% - so you can use your WILLPOWER to start reducing the amount of nicotine you are consuming. This is definitely a great step forward to living smoke-free!
What is in a SMOKO Premium Electronic Cigarette?
SMOKO Premium Electronic Cigarettes contain only 4 ingredients - Nicotine (this is the only reason why you smoke!), Propylene Gycol (is used in cake mixes, salad dressings, soft drinks, popcorn and fat-free ice cream), Vegetable Glycerine (is used in candy and chewing gum), and of course the amazing Flavouring - to give SMOKO it's great taste! All of which are pharmaceutical and consumption grade ingredients! And most importantly - our e-liquids are NOT made in China like 95% of all of the other e-cig brands but use ingredients sourced from within the EU and then manufactured and tested to surpass all current UK Standards ensuring our e-liquids are all Made in The UK!!  
Is SMOKO cheaper than tobacco cigarettes?
ABSOLUTELY YES! SMOKO Electronic Cigarettes are about 80% cheaper than regular tobacco cigarettes. In the UK, a pack of tailor-made cigarettes are now £10.50/pack. For someone who smokes a pack a day, you would be spending £1.50 to £2.00 a day. You don't need to be a rocket scientist to work out which is a better option for you wallet!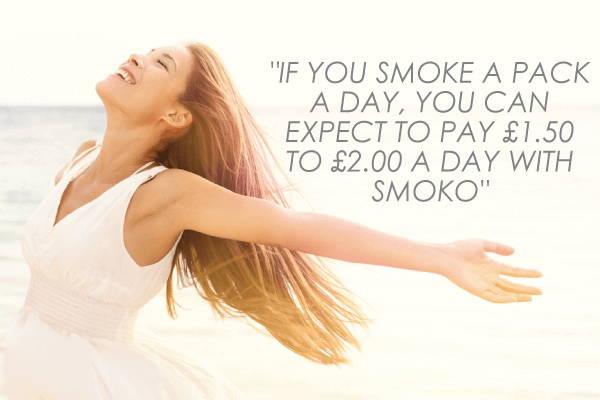 Where in the world does SMOKO ship to?
Everywhere where e-cigarettes are legal! We use Royal Mail, DHL, DPD, FED EX and other major couriers to deliver SMOKO E-Cigarettes to most countries around the world – making it super easy to switch to SMOKO.
We offer FREE SHIPPING for UK orders over £40 and International Orders over £100!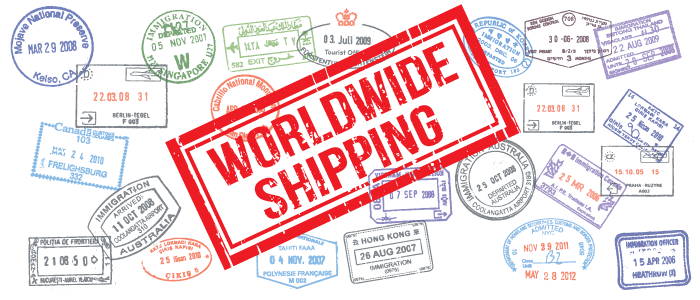 What is the PG VG mix in your liquids?
PG (Propylene glycol) and VG (Vegetable glycerine) are the core ingredients in our liquids, they create the all-important vapour. Here at SMOKO we strive to give you the best taste and the truest vaping sensation and that is why we chose to create our liquids with 80% PG and 20% VG, with the rest be made up of nicotine and flavouring. With this percentage we think you get the best throat hit, the strongest flavour and the most satisfying vapour around.
We have a range of e-liquids that suit any refillable vape device and these are a perfectly blended 50% / 50% PG VG Mix.
What's the difference between the liquids and the refills?
The only difference between our refills and our liquids is how they are used, so whether you are using one of our vapourisers and pouring the liquid into the tank or screwing a refill onto your battery you know that you are getting the same great taste either way.
What do the 20mg or 2.0% mean?
The percentages next to each of our flavours indicate how much nicotine is in each cartridge. It is measured by how many milligrams (mg) per millilitre. . If you wanted to be technical then it could be read as 20mg/ml, but we shorten it for convenience. So when the label says 20mg it is saying that out of 100ml, 20mg is nicotine, or as it is sometimes written 2.0%.
In a cigarette there is anything between 0.8mg to 2.5mg of nicotine, depending on the brand and how many other chemicals the cigarette company has decided to add in.
Do you sell mods or different voltages on the batteries?
Here at SMOKO we are always aiming to provide the easiest, safest and most enjoyable experience possible. That is why we have chosen to design our batteries with 1 setting. You will never have to fiddle around to try and find the best setting.  
I seem to be using more than I thought I would, what can I do?
Especially for beginners, being able to use your Electronic cigarette anywhere, at any time without having to go outside is liberating. However you can start puffing away without thinking about it, and start using it more than you need.
Roughly 7 puffs is the equivalent in nicotine of a cigarette (depending on how big your puffs are), so what we suggest when you are starting is to really count how many puffs you are taking. When you get to 7, or when those nicotine cravings have gone away, put it down and wait until you need some more. This can help you get into the rhythm of using your e-cig and stop you taking more puffs then you need.
how do i get started with smoko e-cigarettes?
Take a look at our selection of E-Cigarette, VAPE or V-Style Starter Kits. We always suggest that someone who is trying an e-cigarette for the first time to start with our SMOKO E-Cigarette Starter Kit - CLICK HERE.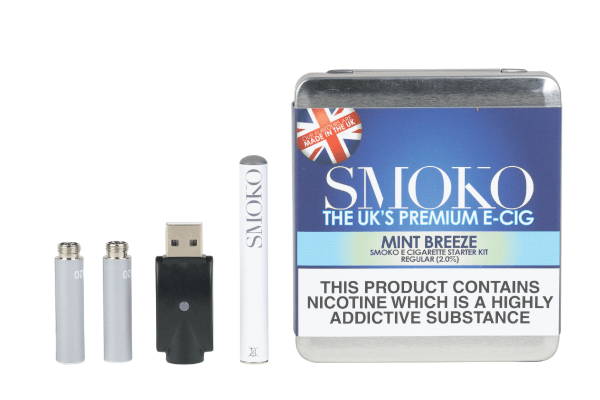 How many refills will I need in a month?
This is entirely dependent on how much you use them of course, but we have deals for all types of users, to make sure that you always have your refills at the best price possible.

Heavier Users (1-2 cartridges a day) When you are going through 1 or two cartridges a day the last thing you want is to be caught without them, so for you we suggest two deals, the 20 box deal for £175 (£8.75 a box) or the 10 box deal for £90 (£9 a box). With both of these deals you get free accessories as well to make sure that you are always fully charged with SMOKO. This way you can stock up and get a great deal as well.
Regular Users (½ – 1 cartridge a day)   If you are finding that a cartridge last a day or two then maybe the 10 boxes for £90 (with a free accessory) or the 4 boxes for £40 might be for you. With both of these you get free shipping as well, another thing to stop worrying about.
Light Users ( ½ a cartridge a day or less) For the light user the £40 deal can be a great way of stocking up for a month and save a bit of money as well. With one box being £11.99 you save money and you don't have to pay the shipping. An excellent idea all round.
Do Electronic cigarette batteries explode?
At SMOKO we have never had an exploding battery, and that is because we make certain to only get the best possible equipment from the best manufacturers. The lithium ion batteries we use are considered as safe as they can be, and the same batteries can be found in your phone, laptop and any other handheld electronic devices.

As with all electronic devices those we strongly recommend that you only use our chargers and mains adaptors as these have all been extensively tested with our batteries, using a different mains adaptor can slow down the charging time or not give the battery the best charge. To get the best use out of your batteries please don't over charge them and don't leave them to charge overnight as this can affect the life of the battery.
What makes SMOKO's E-Liquids better than others?
All our e-liquids are Made in the UK, and we make sure that they not only pass but surpass all current standards. We test them thoroughly so that you get the best possible flavour and vaping experience.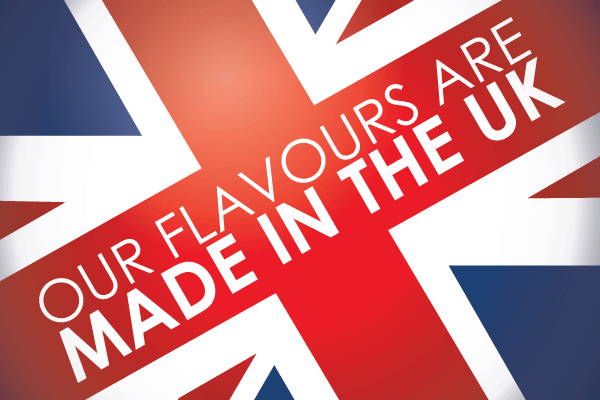 How long are batteries meant to last?
An Electronic Cigarette battery will last around 3 months for the average user (less for heavier users), though dropping it in the sink or sitting on them doesn't help! If you notice that the refills aren't lasting as long as they normally do or battery runs out of charge quicker than it used to then it is probably time to get yourself a new one.
What is the extra refill that I got in the post?
With each online or phone order we like to add in an extra refill of another flavour for you to try. They are completely free and let you try some of our other great flavours without having to buy them first!

The samples are randomised each day so give it a try; you never know you might find your new favourite flavour!
I'm confused, what's the best way to contact you?
If you are confused by anything on the website or about SMOKO in general feel free to get in contact with us! You can talk to us by clicking on the button in the bottom righthand side of the website - "chat with us", send us an email through the Contact Us page, or to support@smoko.com, or feel free to give us a ring on 0800 772 0234 or on +44(0)1892 512 529 if you are calling from overseas. We always love talking to fellow SMOKO users so contact us today and see if we can help!
Tips and Tricks - New Refill Cartridge is not working?
This might happen once in a blue moon. Here is a quick fix to try.

Turn the Refill Cartridge so the screw end is facing you. You will see 2 terminals on the either side of the central hole.

Stick a pen into the central hole between the 2 terminals.

Slightly pull the 2 terminals down towards the outside ring and forward. This will pull the 2 terminals slightly forward and allow the terminals to connect to the battery better.

Screw the Refill into the battery and draw as usual.

If this doesn't work, feel free to give us a call and we can help.
Tips And Tricks - How do I keep my battery in the best condition?
Our batteries are designed to last up to 15 cigarettes or 75 to 125 puffs on one charge

You can expect at least 3 months of optimal use on your SMOKO Rechargeable Battery. We always have great offers on replacement batteries for you SMOKO E-Cigarette and you can usually get a FREE one when you bulk order on Refills! Check out some of our great deals by CLICKING HERE
 

Before you put a new Refill on, use a tissue to clean the inside of the screw end of the battery. This will remove any residue or grit that may have built up. This should provide a nice and clean connection between your battery and the Refill and give you the best vapour quality.

 

Take care of your batteries – we recommend that you do not drop them or put them through the wash or try lighting the end with a lighter (don't laugh – it's happened a few times..!).
Tips And Tricks - My Order has not arrived
Log onto your account at www.smoko.com

Go to My Orders section and click on your last order. If you have requested a Signed-for service, you will find the Tracking Reference on the last order. Go to the delivery company's website to check the status.

If you cannot find the delivery status, feel free to contact one of our Customer Service team and we will be happy to help.
---